Until we can all travel again, it's been one of the most popular lines we've been seeing on social media alongside throwback photos that netizens have been sharing. The global pandemic caused by the coronavirus has led to global lockdowns, affecting travelers who are stuck overseas, bleeding money to cover costs of their stay while out of the country, and at the same time, trying to cover costs they are obligated to pay back home (rent, bills, family they are supporting, etc.). While most of them have been able to return home, many are still in trouble because the cost of repatriation flights has also skyrocketed to an all-time high. I share the same sentiment as these people, because it has also happened to me. A canceled flight now takes an average of three months before you can get a refund. Worse, you get less if you took the risk of buying from (legitimate) third-party websites because of the fees to be deducted. I remember buying an economy return ticket that cost more than the price of a round trip business class only to be canceled. Luckily, I know my ways and I have the money to spend for another (expensive) return ticket. However, this is just one part of the horror stories we hear every now and then. When we look at the bigger picture of the situation, it has caused the aviation industry to reach bottom low, making a lot of its employees redundant. When there are only limited flights that can be used just for essential reasons, this has caused a domino effect on tourism, cutting millions of jobs and businesses that rely on tourism. For most who have not been directly impacted have probably received short time work and salary cuts to help the business situation. But what can we do? This is an effort to protect the individual and each country's interest to flatten the curve so they can start again while waiting for the vaccine.
Coronavirus pandemic is an unprecedented crisis for the tourism economy.
In a report published by the Organisation for Economic Co-operation and Development (OECD), it touched some key points I'd like to highlight here.
The coronavirus (COVID-19) pandemic has triggered an unprecedented crisis in the tourism economy, given the immediate and immense shock to the sector. Revised OECD estimates on the COVID-19 impact point to 60% decline in international tourism in 2020. This could rise to 80% if recovery is delayed until December. International tourism within specific geographic-regions (e.g. in the European Union) is expected to rebound first.

 

Domestic tourism, which accounts for around 75% of the tourism economy in OECD countries, is expected to recover more quickly. It offers the main chance for driving recovery, particularly in countries, regions and cities where the sector supports many jobs and businesses.
A separate report published by Statista, here is an overview of employment loss (in millions) in the travel and tourism industry due to the coronavirus pandemic worldwide in 2020, by region.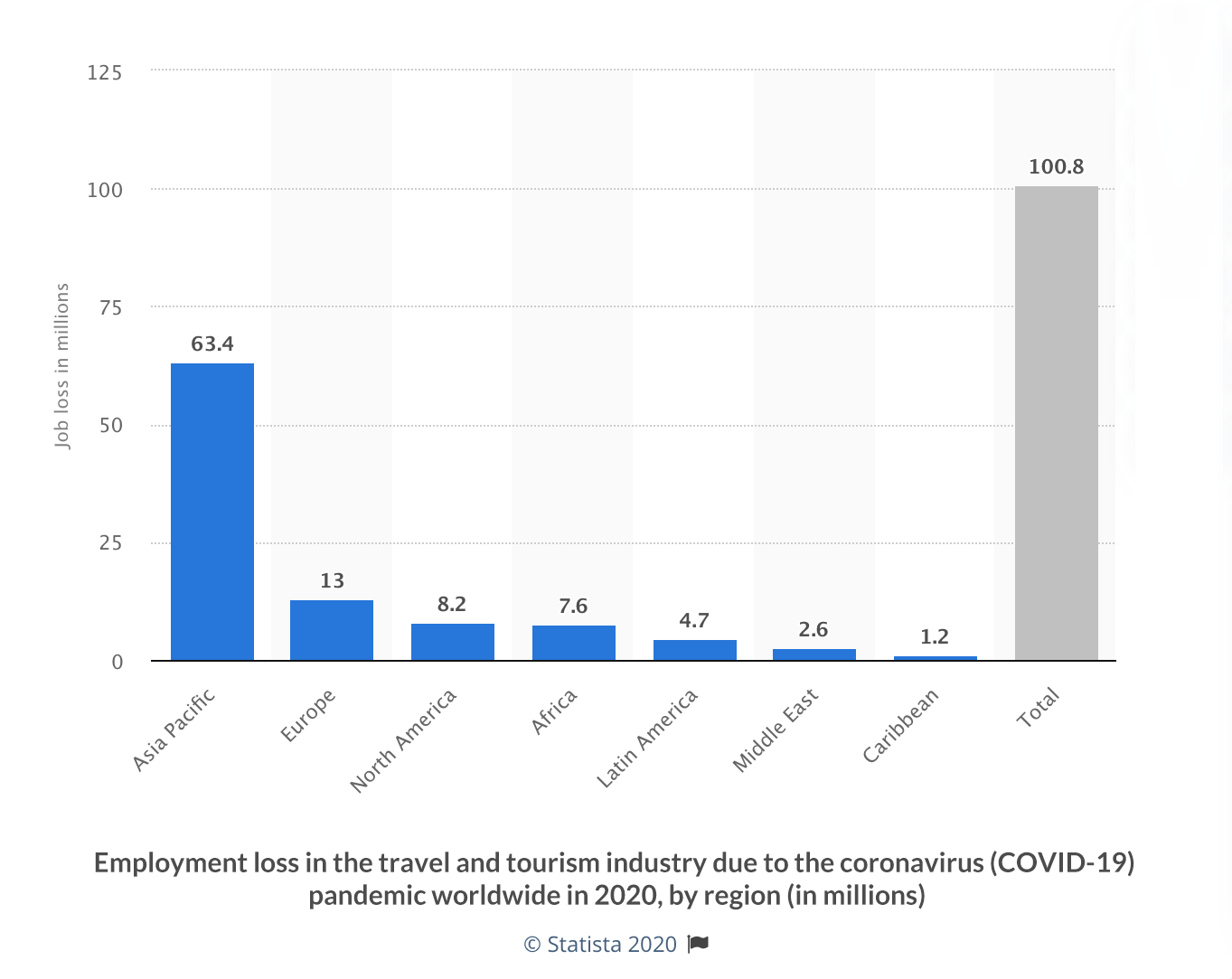 Looking at the data for job losses alone is already too stressful to begin with. How fast can we recover from this so as not to further aggravate the effects of the coronavirus pandemic? From news where strategies presented by countries (e.g. Germany, New Zealand, South Korea) doing well in fighting this pandemic and further loss of jobs, they are already looking extra 3-4 years for the tourism industry to start going back to normal. And the hard truth we must all think about now is that the effects of this global pandemic will not end once a vaccine has been developed. Just imagine the rest of the world wanting to receive the vaccine. Money and how powerful a country is will play a big part in how soon they can start living back to the way they are at least used to. Are you stretching your plans out this far?
I know what you're thinking. You're probably blaming the slow efforts made to contain the virus from its origin or how you feel others to be too privileged to not have the social responsibility to follow health protocols. Had there been early and responsible efforts, then we wouldn't be in this devastating situation. Well, guess what? We often just see the gravity of the situation and our actions when it's already too late and we can no longer reverse it.
What does it mean for tourism and those businesses dependent here? Does that mean pausing our lives until things are back to normal? That cannot and should not be the case. Never. 
To give you a better understanding on how we can approach and win this together, I'd like to share additional data on why we need to act quickly on this. 
Figure 2. Direct contribution of tourism in OECD economies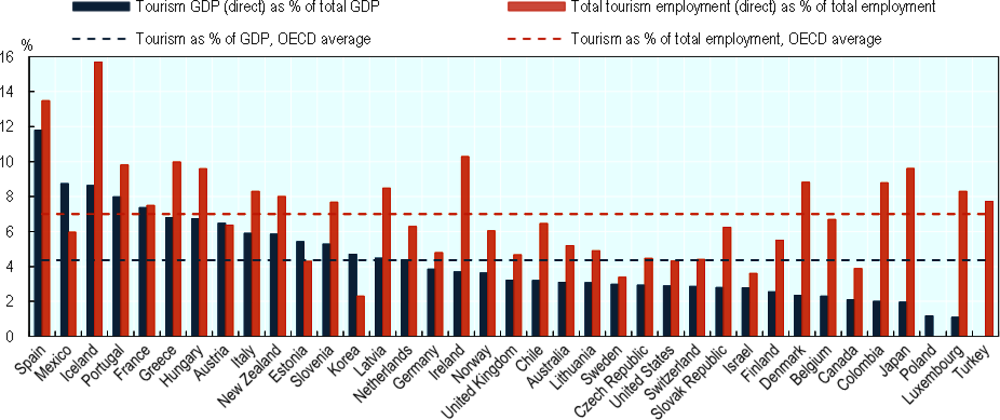 Note: GDP refers to GVA for Canada, Chile, Colombia, Denmark, Finland, Germany, Greece, Hungary, Israel, Italy, Latvia, Lithuania, Mexico, the Netherlands, New Zealand, Portugal, Sweden, Switzerland, United Kingdom and the United States.
GDP data for France refer to internal tourism consumption.
GDP data for Korea and Spain includes indirect effects.
Figure 3. Contribution of tourism to service exports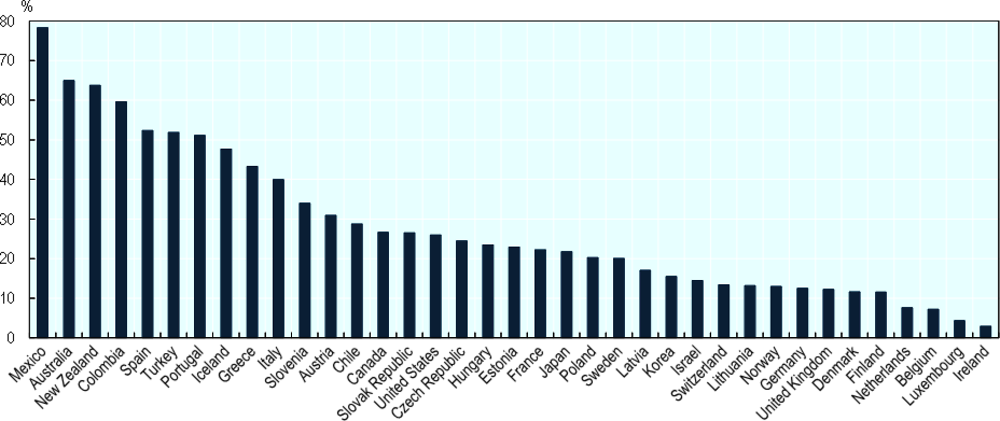 Source: OECD Tourism Statistics (Database).
The reality is that global tourism will be hard hit throughout 2020 and beyond
This will be the case for many countries even if the spread of the virus is brought under control. An average traveler these days will have to prepare at least USD 500 (PHP 25,000) for testing and quarantine before their departure and when they arrive their home country. Would you spend this much for a few days of gratification? While it is not yet clear when a more widespread re-opening of borders will occur, and under what conditions, it does not mean that the industry has to stop.
The tourism industry is a labor-intensive sector directly affected by the current crisis that calls for immediate and long-term responses. In normal circumstances, the sector can help provide diverse employment opportunities for migrants, women, students and older workers, not only in major cities but also in remote, rural and coastal areas, as well as other often economically fragile locations where alternative opportunities may be limited.
Advocating sustainable tourism.
Having worked with the Department of Tourism in the Philippines as an external consultant and with the different Local Government Units (LGUs), I have always been an advocate sustainable tourism. Not that I knew a crisis this hard would happen, but I feel that, as a marketer, I also carry a responsibility of affecting lives positively, such as becoming a bridge for the creation of more jobs, improvement of livelihood, and growth of businesses in the community. I've created campaigns for both the tourism and aviation industries that have put more emphasis to people, hospitality, and community empowerment to create long-term value for the and more meaningful travels. This is how we win and this is how we should do it.
We have seen a big shift in consumer behavior and it's leading us through a massive digital transformation. This is where we need to start. If you work in the tourism sector or if your business has been impacted, here are some business ideas on how we can win against this crisis. Remember, there's a lot of work we can do and we have to catch up real fast. Here are some guidelines that can help you.
1. FOCUS ON DOMESTIC TRAVEL.
With international travel largely off the table for the foreseeable future, destinations can capitalize on promoting travel within their own borders. This not only helps to support the domestic economy, but it also allows travelers to experience the beauty and culture of their own country in a whole new way. By promoting domestic travel, destinations can encourage travelers to explore and discover new places within their own country, while also supporting local businesses and boosting the domestic economy. This can be done through targeted marketing campaigns that highlight the unique experiences and attractions that can be found within the country.  
2. PROMOTE SOCIALLY-DISTANT ACTIVITIES & OUTDOOR EXPERIENCES. 
With many indoor attractions closed or operating at reduced capacity, destinations can capitalize on promoting hiking trails, biking paths, and other outdoor activities that can be enjoyed while maintaining a safe distance from others. Outdoor activities are a great way for travelers to explore and discover new places while also staying safe. By promoting these activities, destinations can attract travelers who are looking for a socially-distant vacation experience. This can be done through targeted marketing campaigns that highlight the outdoor activities and attractions that can be found in the destination.
3. LEVERAGE ON TECHNOLOGY.
Technology should also be leveraged as a tool for the tourism industry to keep up with the pandemic. Virtual tours, live streaming events, and other online experiences are a great way to allow travelers to explore and experience new places without ever leaving home. These virtual experiences can be used to showcase the destination's attractions and culture, providing travelers with a taste of what they can expect if they choose to visit in the future. Additionally, virtual experiences can be used to market the destination to a wider audience, reaching potential travelers who may not have otherwise considered visiting the destination.
4. PROMOTE SAFETY.
Another way the industry is adapting is by promoting and implementing strict health and safety protocols. By showing that they are taking the necessary steps to ensure the health and safety of their guests, destinations can reassure travelers and provide them with the confidence they need to plan a trip. This can be done through targeted marketing campaigns that highlight the health and safety protocols that are in place, as well as through the use of certifications and seals that demonstrate compliance with health and safety standards.
As a marketing professional having worked in the tourism industry, it's clear that the ongoing pandemic has presented a unique set of challenges for our industry. The travel restrictions, health concerns have caused a significant decline in tourism, and with borders closed, it has been one of the hardest-hit sectors in the economy. But, as we've seen time and time again, necessity is the mother of invention, and the tourism industry is no exception. The industry will adapt and find new ways to welcome travelers and provide them with meaningful and memorable experiences.